Dean's Message 
Welcome back for another wonderful school year!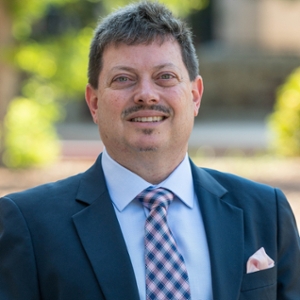 On July 5 th of this year, I started my new role as Dean of the College of Business. As of this writing, I've been an Aggie, and a New Mexico resident, for almost three weeks! I've spent the last sixteen years living near Cincinnati Ohio, and have previously lived in Arizona, Virginia, Connecticut, and Florida. Past experiences include being a professor and administrator at the Farmer School of Business at Miami University, working for companies like Honeywell and Procter & Gamble, and a stint running nuclear plants in the US Navy.
I would like to thank my immediate predecessors, Dean Jim Hoffman and Dean Eileen Hogan for their leadership of the college – I've got a couple pairs of big shoes to fill! I would also like to thank my faculty and staff colleagues. They have been warm and welcoming, and have helped me to quickly feel at home in a new place.
We move into the new school year with a theme of engagement and energization. On our beautiful campus, we need to be present, in the moment and thrive on the energy that comes from the interactions among students, faculty, staff, and external stakeholders. In practical terms, this means we will:
Work to bring more guest speakers, recruiters, and industry leaders to engage with our students.
Continue to transform our curriculum, with a focus on professional competencies and experiential learning.
Consider a brand identity for the COB, to more effectively tell our story.
Leverage our centers to strengthen academic research and engage external stakeholders.
Focus on development and fundraising aimed at enhancing student success.
In addition, this is our re-accreditation year for the Association to Advance Collegiate Schools of Business (AACSB). AACSB accreditation is the longest-standing and most prestigious accreditation that can be earned by a university and its business programs, and we will be preparing for a successful review and outcome.
I would like to close with some thoughts on the road ahead. NMSU and the College of Business are suffused in the spirit of service, and the belief in education as a driver of social mobility and life transformation. It was this spirit, clearly observable in the institutional culture, and the hearts of my colleagues, that so strongly appealed to me when I was offered this wonderful opportunity.
The action steps outlined above are just the beginning of our journey together, a journey to being the destination business college in the Southwest and Borderlands. World events are upending decades-old assumptions about supply chains, risk, and business networks, making areas like Las Cruces and the Borderlands the logical places for economic development and renewal. Here in the heart of this vital region, we have our wonderful university, filled with dedicated faculty and staff, bursting with talented students eager to sharpen their skills and show the world what they can do. I look forward to sharing more with you, and to re-engaging you with our college and campus, as together we fulfill this vision.
Bryan Ashenbaum